Wireless Uroflowmetry System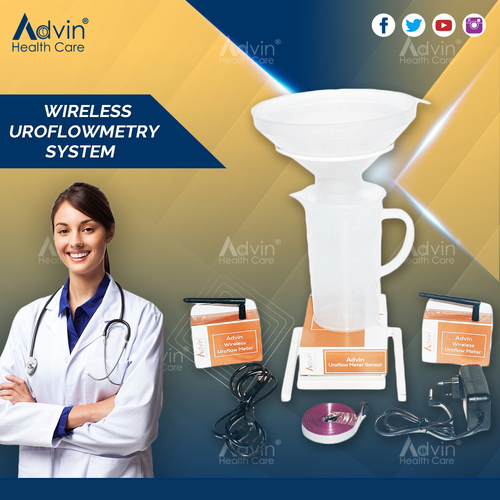 Wireless Uroflowmetry System
Price And Quantity
Product Specifications
Benefit of wireless Uroflowmetry System is to store report along with patient information in PC (Computer / Laptop) and can be recall easily. Comparison of Graph can be easy.

Electric
Product Description
Uroflow Meter is used to detect the deficiency in urinary track of human body..

Advin Uroflow is weight based uroflowmetry system, which gives accurate data as well as graphic representation of the urine flow
Uroflowmetry System is a fully automatic microprocessor based device with digitally controlled weight based flow transducer
Uroflowmetry Systems is also known as Uroflowmetry Machine, Uroflowmetry, Uroflow, Uroflowmetry Test, Uroflow Meter, Uroflow Machine, Uroflowmetry Procedure, Automatic Uroflow
Features:
Voided volume (ml)
Maximum flow rate (ml/s)
Average flow rate (ml/s)
Voiding time (sec)
Flow time (sec)
Time to maximum flow (sec)
Hesitancy (sec)
Features of Uroflowmetry system:
Digitally controlled weight based Uroflowmetry Systems
Fully Automatic with auto start and stop.
Automatic analysis
Accurate Result
Non Invasive Method
No Risk to Patient with this test
No Hospitalization
Cost effective Device
Light weight, Compact and Easy to handle.
Maintenance free and very easy to operate
System is users friendly and also easy to operate.
Easy to clean and reusable.
Accessories Include in Uroflowmetry System:
Uroflow System Module (01)
Printer (01)
Micturation chair (01)
Flow transducer (02)
Beaker (01)
Funnel (01)
Mains Cable (01)
Uroflow Meter is used to detect the deficiency in urinary track of human body. Advin Uroflow is weight based uroflowmetry system, which gives accurate data as well as graphic representation of the urine flow.Uroflowmetry System is a fully automatic microprocessor based device with digitally controlled weight based flow transducer.
Trade Information
1 Week

Export Standard Packing
CE / ISO 13485 / ISO 9001:2015 / WHO GMP