Laser TURP Resectoscope SET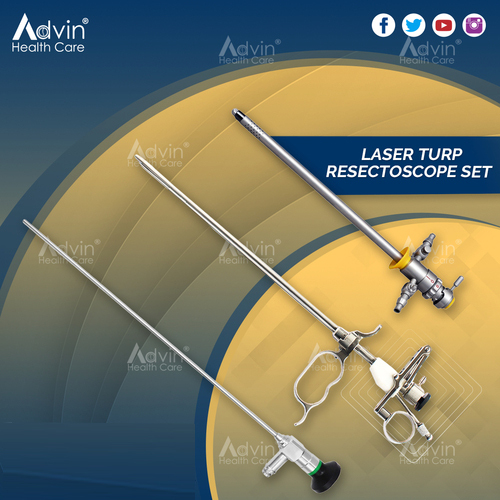 Laser TURP Resectoscope SET
Price And Quantity
Product Specifications
During transurethral resection of the prostate (TURP), an instrument is inserted up the urethra to remove the section of the prostate that is blocking urine flow. TURP SET used in Benign prostatic hyperplasia (BPH).

Other
Product Description
Laser TURP SET / Laser Resectoscope SET:-
Laser TURP Procedure is an advance technique to remove prostate by Holmium Laser. Laser TURP procedure is a surgical technique available for the treatment of urinary symptoms due to benign enlargement of the prostate (BPH)..

During transurethral resection of the prostate (TURP), an instrument is inserted up the urethra to remove the section of the prostate that is blocking urine flow. TURP SET used in Benign prostatic hyperplasia (BPH).
Laser TURP Procedure also known as Holmium Laser Enucleation of the Prostate (HoLEP), Laser Resectoscopy, 26Fr Laser Resectoscope Set, 600 & 800 Micron Laser TURP Set, Laser Resectoscopy, Urology Laser TURP Set, Urology Equipment, Urology Instruments, Urology Disposable, Laser TURP Resectoscope Set..
Advantage of Laser TURP Procedure
More effective compare t Monopolar and Bipolar TURP.
Recovery very fast & Less hospitalization
Suitable for men with prostates of any size
Can be used in patient who are taiking blood thinners (eg. Aspirin, clopidogrel and warfarin)
Designed to provide excellent utility
Laser TURP SET / Laser Resectoscope SET contains
Laser Working Element
Laser TURP Sheath.
Outer Sheath.
Inner Sheath.
Obturator.
Trade Information
1 Week

Export Standard Packing
CE / ISO 13485 / ISO 9001:2015 / WHO GMP